A Word from RMI General Manager, Patrick Cronin
It was wonderful seeing everyone at the LMA Convention last week in Alexandria!
We enjoyed reconnecting with so many friends from the Louisiana municipal community, including Mayors, Clerks, Police and Fire Chiefs and everyone else involved in the service of our State's cities, towns, and villages.
We also enjoyed meeting new municipal officials and employees and we are thankful for the new opportunities which we hope to enrich over the months and years ahead.
I know I speak for the folks at RMI, the LMA and LaMATs when I say that we are grateful for the many friendships we've established with our municipal leaders and employees, and we sincerely appreciate the opportunity to serve the municipalities of the State of Louisiana.
MPERS Litigation – RMI Has Your Back
Numerous municipalities in the State of Louisiana have been impacted by the recent litigation initiated by the Municipal Police Employee Retirement System (MPERS). Please be aware that most insurance policies do not provide coverage for potential damages brought about by this litigation. In fact, most carriers do not even provide for related defense costs for their insured municipalities.
At RMI, we're providing a different approach to support our LMA Fund members who are covered for Public Officials Errors and Omissions coverage through the Fund. While these actions are not afforded coverage for related damages, we have set up a team of experienced and aggressive law firms to handle the bulk of the current and impending litigation relating to this matter, and the LMA Fund is assisting our member municipalities by covering the legal costs associated with defending these lawsuits. In other words, if you're a member of the LMA Liability Fund, we've got your back!
If you receive a lawsuit from MPERS, and your municipality is covered by the LMA Fund for Public Officials E&O coverage, please give us a call to discuss setting up a claim and assigning your case to our defense team.
If you have any questions, please contact RMI General Manager Patrick Cronin at pcronin@rmila.com or RMI Casualty Claims Manager Glenn Broussard at gbroussard@rmila.com. They can also be reached at 1-800-843-0931.
RMI WRAPS UP RATE STUDY - WC RATES GOING DOWN!
RMI General Manager Patrick Cronin and RMIAI Account Manager Bill Corley just concluded their analysis of RMI's current workers' compensation rates and recent five-year LMA WC Fund loss history and determined that a rate reduction is in order. All of the applicable NCCI class and position description codes were analyzed, and the majority of the codes will undergo a rate reduction, effective for new and renewing workers' compensation policies on/after July 1st of this year. While a select few class codes underwent a rate increase, the average across the board decrease will result in an overall rate reduction of 8.73%.
Cronin stated that this rate reduction, in conjunction with next year's surplus premium redistribution to LMA WC Fund members, will further enhance RMI's competition in the WC market for Louisiana municipalities.
RMI Announces Plans to Return Surplus Worker's Compensation Premiums to Eligible Fund Members
After obtaining LMA/RMI Board approval, RMI General Manager Patrick Cronin advised that surplus worker's compensation fund premiums will be returned to eligible Fund members, beginning with the 2023 LMA Workers' Compensation fund year. Cronin advised that, after all fund obligations are met for the 2023 fund year, RMI will begin distributing surplus premiums to Fund members who've met certain loss performance requirements and fall under a redistribution formula to be approved by the Louisiana Department of Insurance. Cronin hopes to begin returning surplus premiums to Fund members sometime in 2024.
More information on this surplus premium refund will follow in the months ahead.
RMI Relaunches Municipal Property Fund Feasibility Study
Since 2021, RMI has been assembling property coverage data to present to the market to determine the feasibility of setting up a self-insured property program to fulfil the need of Louisiana municipalities brought about by the recent void in the property market. Your help is needed in rounding out the necessary information to determine if this is a financial path the LMA and RMI should pursue.
The information needed from current LMA Fund members (as well as non-Fund members) is basic and will provide a critical mass of information and data needed to allow RMI's broker consultant to crunch the numbers for this worthwhile cause.
Statement of Values – This is the list of municipal properties you would like covered by the self-funded property program. In order to access the Statement of Values spreadsheet, please go to the following page: https://www.rmila.biz/statementofvalues/, complete the details in the form, and email it to pcronin@rmila.com.
5-Year Property Loss Runs, currently valued (within 45-60 days) – If you do not get these on a regular basis, please reach out to your property insurance agent and forward them to pcronin@rmila.com, once received.
Once RMI has collected the needed data, they will combine this information and present it to their property consultant (Alliant) for them to research the numbers and make their recommendations.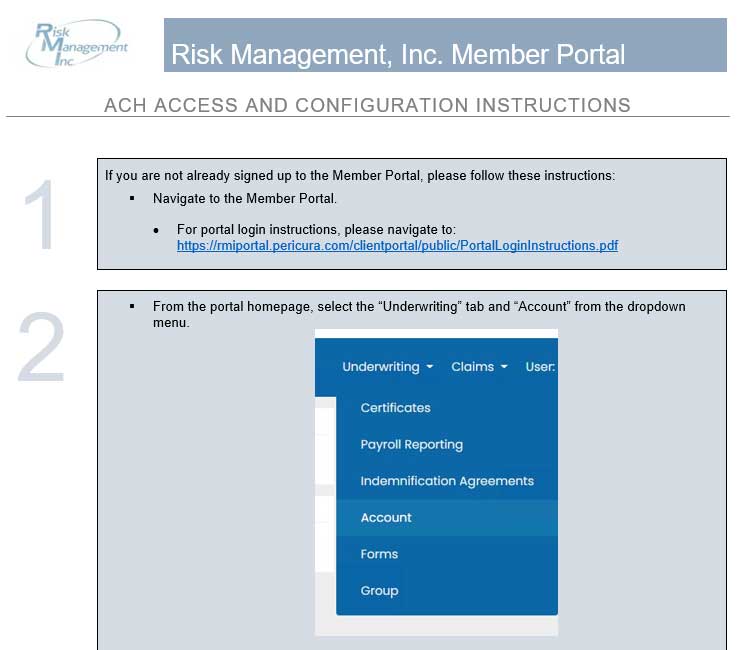 RMI Introduces Online Premium Payment Option
Risk Management Inc., LLC is now offering an online Premium Payment Option for LMA Fund Members. To sign up for this option, please follow the instructions below. You can find out more information on the member portal, as well as how to register, by clicking the first image below.
If you have any questions, please contact RMI General Manager Patrick Cronin at 800-843-0931 or pcronin@rmila.com.
Risk Management, Inc. Moves to New Headquarters!
On August 22nd, RMI will move to its new offices, located at 6767 Perkins Road in Baton Rouge. While our physical address will change, our phone and faxes numbers and extensions will remain the same.
The staff of RMI looks forward to serving the coverage and risk needs of participating Louisiana municipalities from its new headquarters. If you need immediate attention during the move (which is scheduled to wrap up on August 24th), please contact Patrick Cronin, General Manager at 843-509-0198.
RMI/RMIAI Enters Benefits Consulting Agreement with JJL&W
Risk Management, Inc. and Risk Management Insurance Agency, Inc. continually strive to provide quality benefits and services to members of the Louisiana Municipal Association.  We sincerely appreciate your prior confidence in RMIAI as your employee benefits broker. We have some exciting news! With the rising costs in the health care industry and therefore health insurance, RMI and RMIAI have decided to strategically partner with JJL&W Insurance Consulting Firm, LLC; one of the largest independent, Louisiana-owned brokerages for Employee Benefits. These benefits include, but are not limited to, group and individual health, dental, vision, life and disability insurance as well as voluntary benefits. Additionally, JJL&W has licensed agents that are experts in fully-funded, level-funded and self-funded benefits as well as Medicare and Medicare supplements.
Our partnership with JJL&W will give LMA members access to an industry leading team of employee benefits consultants that will enhance current benefit offerings, improve the management of your account and give you access to even more insurance carriers while driving down costs related to these benefits. In the near future, we will introduce your group to a JJL&W representative to help transition to our new process for employee benefits.  We look forward to visiting with you about our new partnership.
If you would like to start a dialogue with JJL&W, please give Patrick Cronin, RMI General Manager or Bill Corley, RMIAI Account Manager a call at 1-800-843-0931.
Risk Management, Inc. welcomes new Customer Service Representative!
Dennis Joiner will join our staff as the newest member of the RMI team of Customer Service Representatives. Dennis will be covering the southeast portion of the state, effective this month, and he will be calling on current LMA Fund members to express our appreciation for their support, while visiting prospective Fund members to discuss the advantages of joining the LMA workers' compensation and liability programs.  In addition to his duties as CSR for RMI, Dennis also currently serves as Logistic Management Consultant for the Federal Emergency Management Agency, and he holds a BS Degree in Business Management from the University of Louisiana – Lafayette.
Carroll Breaux (former Springhill Mayor, past LMA District Vice President and LMA President) covers the northwest part of the state, Lawrence Henagan (former DeQuincy Mayor, past LMA District Vice President and LMA President) covers the southwest part of the state and Kathy Richard (former Arnaudville Mayor and LMA District Vice President) covers the northeast part of the state.
Our team of CSRs look forward to visiting with you soon! If you're interested in a quote from RMI, please contact Patrick Cronin, General Manager at 1-800-843-0931.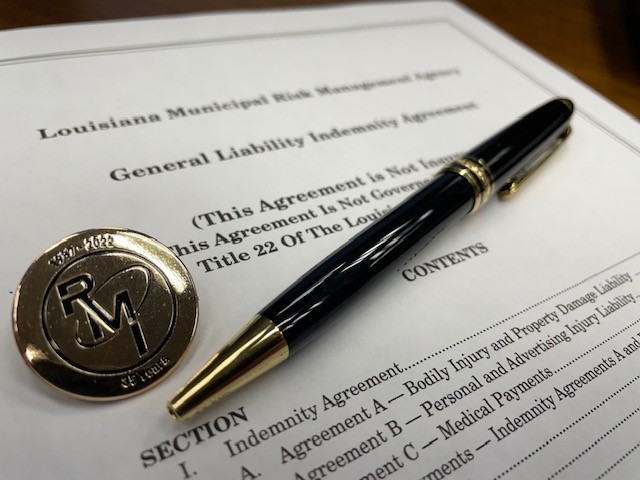 Risk Management, Inc. Celebrates its 35th Anniversary of Serving Louisiana Municipalities!
In 1987, RMI officially opened its doors to provide claims, coverage and risk related solutions exclusively to Louisiana municipalities and 2022 will be our year to mark and celebrate this 35-year milestone.  During the transition to new leadership, which took place in early 2021, we have instituted multiple changes to improve and build upon the solid corporate foundation that was forged by Jerry Cronin, founding General Manager, over the past 34 years. To prepare RMI for the next evolution in its success, we have streamlined internal processes, expanded marketing strategies, and modernized IT protocols to better serve the members of the LMA Interlocal Self-Insured Funds.
While we have made great strides in growing the footprint of RMI and the LMA Funds, we're just getting started and our best days are ahead. We've been successful in adding new coverage lines to 19 municipalities, and we have many more in our production pipeline. To those municipalities that we have already visited during the past 14 months, we sincerely appreciate your hospitality. To those we have yet to visit, we'll be calling on you during 2022 and beyond to re-establish our relationship as we introduce you to the new RMI.
We hope you will join the staff of RMI and the Louisiana Municipal Association in our celebration!
Santa Claus Visit
Santa Claus visited the LMA/RMI offices on Friday to extend best wishes for a Safe and Blessed Christmas to all!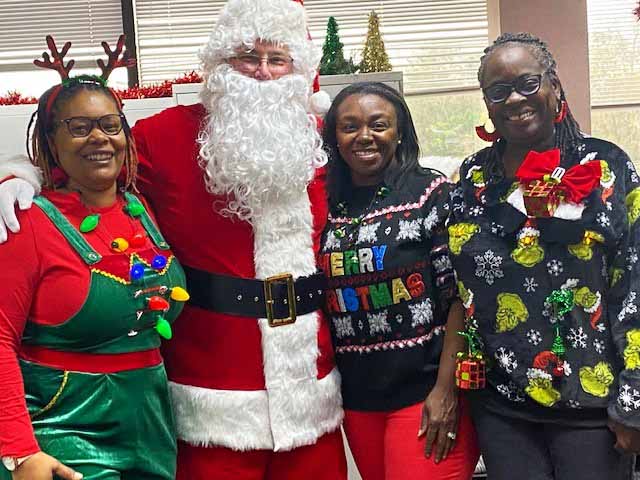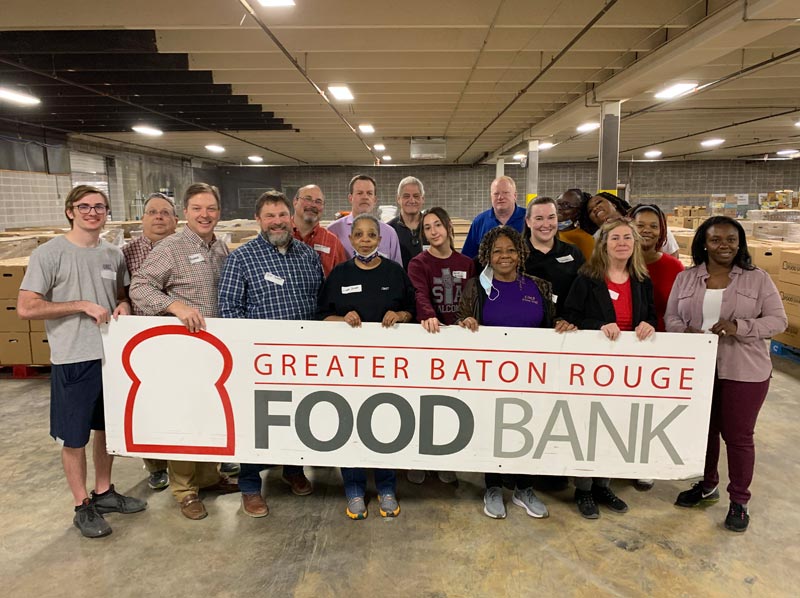 GIVING BACK!
On Wednesday, December 1, LMA, RMI, and LaMATS staff joined together in service to the community by volunteering at the Greater Baton Rouge Food Bank. They collected non-perishable goods, and also dedicated a few hours to sort donated items, stock shelves, and prepare food boxes for those in need.
RMI Welcomes a New General Manager
Jerry Cronin served as the longstanding General Manager of Risk Management, Inc. and entered semi-retirement in July 2021. A hiring committee of the RMI Board of Directors conducted in depth interviews with several qualified candidates. Patrick Cronin was selected to succeed Jerry and his transition into the role of General Manager began on January 4, 2021. Patrick has enjoyed over 36 years in the insurance, TPA, cost containment, loss prevention, underwriting and risk management industry, starting out in the position of Claims Representative at RMI in 1987. Since that time, he has served in various insurance and claims operations management roles dating back 28 years. He is a 1987 graduate of Louisiana State University, where he earned a bachelor's degree in Criminal Justice. He has also earned the designation of Chartered Property Casualty Underwriter, in addition to numerous other insurance related designations. Patrick holds adjuster licenses in Louisiana, Mississippi and Alabama, as well as a Property/Casualty Consultant license in Louisiana. We appreciate Jerry's many years of service to our members and are excited to welcome Patrick to the helm of RMI. We look forward to many years of continued success.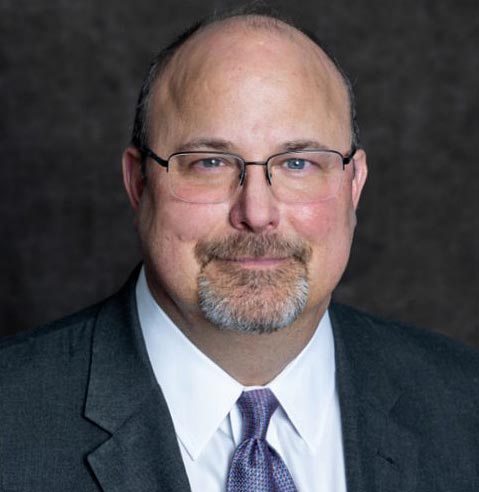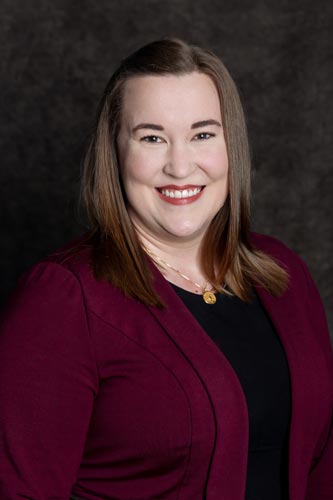 Sharron Kennedy, RMI Casualty Claims Representative achieves Chartered Property Casualty Underwriter designation
We are excited to recognize Sharron Kennedy, RMI Casualty Claims Representative, for achieving her Chartered Property Casualty Underwriter designation. The Chartered Property Casualty Underwriter designation is a rigorous insurance and risk-related curriculum of a minimum of eight detailed exams. Only 4% of insurance professionals achieve this designation. Congratulations Sharron!
Sharron Kennedy, RMI Casualty Claims Representative, achieves AIC-M designation
We are excited to recognize Sharron Kennedy, RMI Casualty Claims Representative, for achieving her Associate in Claims – Management designation. The AIC-M designation is a rigorous insurance and risk-related curriculum of a minimum of four detailed exams and speaks to her professionalism of her work in the RMI claims department. Congratulations Sharron!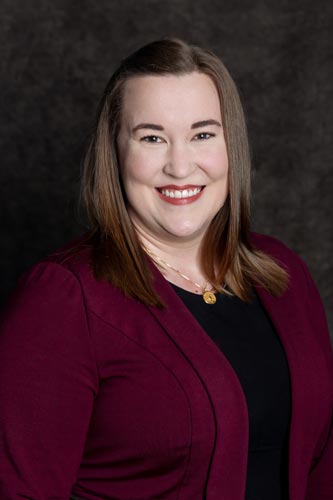 The staff of RMI and the LMA mourns the loss of founding RMI General Manager, Jerry Cronin
It is with the heaviest of hearts that we announce the passing of our cherished friend and Risk Management, Inc. (RMI) General Manager of 34 years, Mr. Jerry Cronin. Jerry entered into eternal rest on Friday from cardiac complications.RMI is LMA's oldest subsidiary and since its founding in 1987, Jerry had served as GM. The organization stands on a solid foundation today because of his wisdom and leadership for over three decades. Jerry was a gentleman, a mentor, and a man of profound faith, and we will miss him dearly. Please lift up his wife, Rose Marie, his son and new RMI General Manager, Patrick, and the entire Cronin family in your prayers, as our LMA family continues to support one another in the wake of this tremendous loss.

Opioid Press Conference
LMA Executive Director John Gallagher and RMI General Manager Patrick Cronin (see left side of photo) attended the press conference of Louisiana Attorney General Jeff Landry's announcement of the multi-billion-dollar settlement with the nation's three largest opioid distributors and Johnson and Johnson, which was secured on behalf of the State of Louisiana and numerous other participating states and Attorneys General. The state of Louisiana is slated to receive $325M of the overall settlement, or $18M per year for the next 18 years, which is earmarked for opioid addiction treatment and prevention throughout the state. There are numerous other pharmaceutical manufacturers and distributors named in the litigation, which may settle in the months/years ahead.